Connecting Nearmap high-res imagery to SketchUp!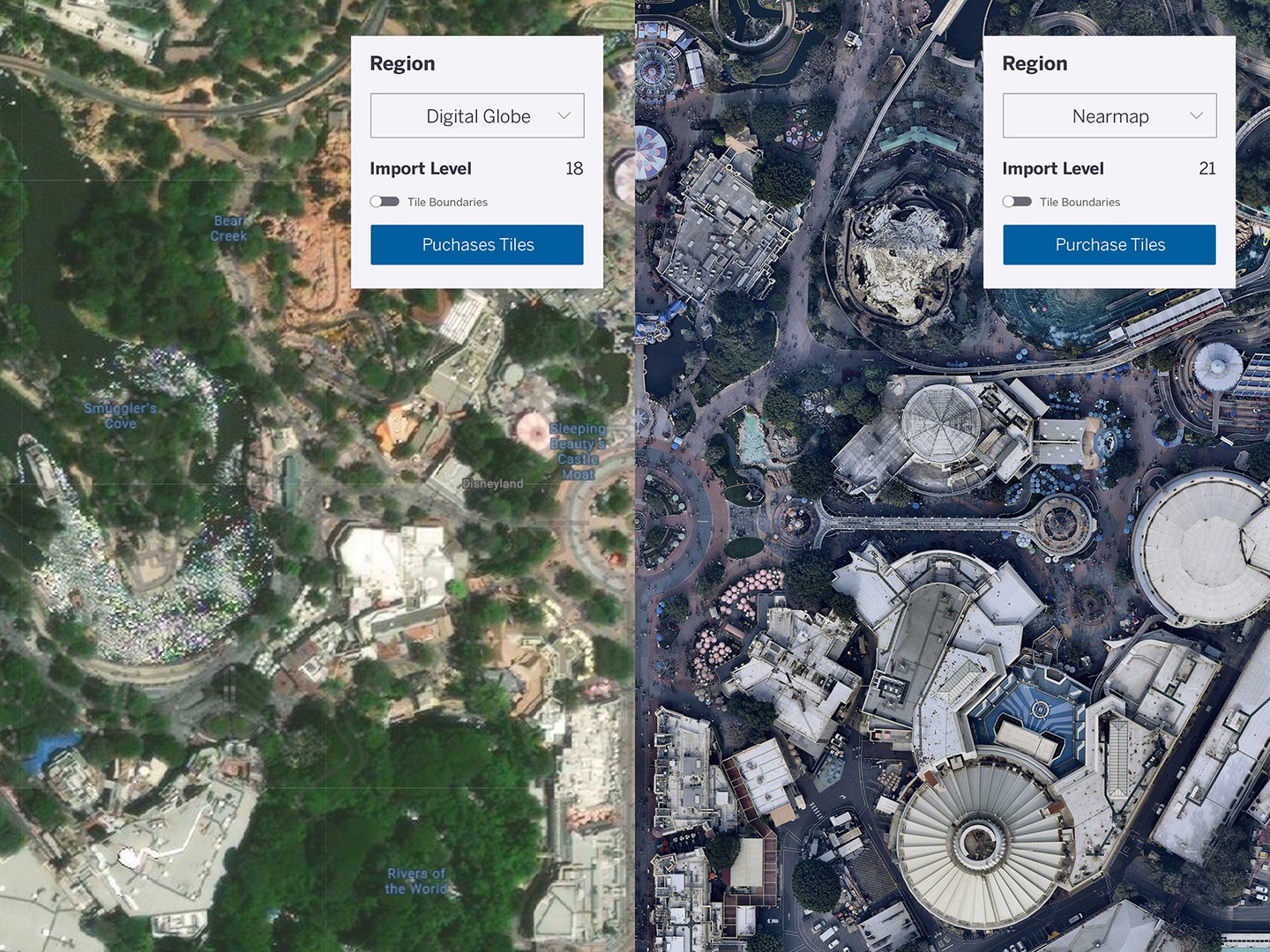 Awesome update alert! Drum roll please…
We are excited to announce high-res imagery in SketchUp's Add Location tool – provided by Nearmap!
In addition to our base imagery offering, we are thrilled to offer SketchUp users clearer, fresher aerial imagery to include in your SketchUp models! With 8x more data than our standard imagery, you can zoom in and get those higher resolutions you need to make those real projects… well… real. Talk about being able to visualize the little details! Did we mention these are the most up-to-date aerial maps available? The data is never older than 12 months. So you never have to worry about outdated information. We got your [design] back!
See the difference: Out-of-the-box satellite imagery from Digital Globe compared to high-resolution imagery from Nearmap
How can I get high-resolution imagery?
Great question. Nearmap will be available to purchase on an as-needed basis for subscription holders (Pro and Studio) as well as for our Classic license holders. You can pull the data directly into SketchUp and checkout right there. Buy only what you need, without leaving your workflow. (Subject to a minimum purchase.)
How to get started
It's easy to get started and flexible enough to fit in your workflow. To use Nearmap tiles, just follow these simple steps:
If you don't have access to the latest version of SketchUp, upgrade to version 2020.1
Click on File > Geo-Location > Add Location. We've added coverage polygons to show where high res imagery is available. Psst: make sure High Res Coverage is on under 'Map Type', and then zoom in to a region that has high res coverage.
Next, click 'Select Region' and choose Nearmap as your provider. Now you can adjust the import level to choose your resolution. Once you've selected your region and import level, you will see the cost of those tiles via the menu.
Note: you won't be able to preview Nearmap tiles in the map view, but you will notice a slight white overlay that changes to represent the tiles at your selected import level. This also shows which tile can be previewed.
Before you commit to purchasing, you'll be able to preview single imagery tiles by clicking the preview button. This is a "pay as you go" style product so you can purchase what you want when you want it — which makes things easy! Nearmap is roughly $0.04 per tile (tiles are 256×256 pixel images) and is subject to a 200 tile minimum.
Currently, this imagery is available for all major cities and suburbs in the U.S., Canada, Australia, and New Zealand. SketchUp & Nearmap are constantly expanding and updating aerial maps — surveying 330,000+ square miles each year! Whoa, that's a lot of data.
Visual learner? Check out our Skill Builder to see how it's done.
Try out Nearmap on your next project and see the [high resolution] difference in your urban planning or landscape architecture projects. After all, real projects require real-world imagery.
Not for you? No worries. We will continue to offer basic imagery tiles and satellite imagery. Learn about all the imagery and import options from Add Location.
Happy SketchUpping!
Take control of your vision

Click HERE to join millions of other SketchUp users if you aren't already using SketchUp – or you just need to upgrade. There's a reason why SketchUp is the most popular design software!
Prefer to speak to someone?
If you have any questions speak to our team on 07 3851 8380
https://www.sketchupaustralia.com.au/wp-content/uploads/Nearmap-Image-Blog-SketchUp-AUS.jpg
1080
1440
Team BuildingPoint Australia
https://www.sketchupaustralia.com.au/wp-content/uploads/BPA_SketchUp-Australia_Logo-2.jpg
Team BuildingPoint Australia
2020-08-07 09:44:19
2020-08-07 09:45:14
Connecting Nearmap high-res imagery to SketchUp!