The NEW SketchUp Pro 2019 has landed – and here is what's new.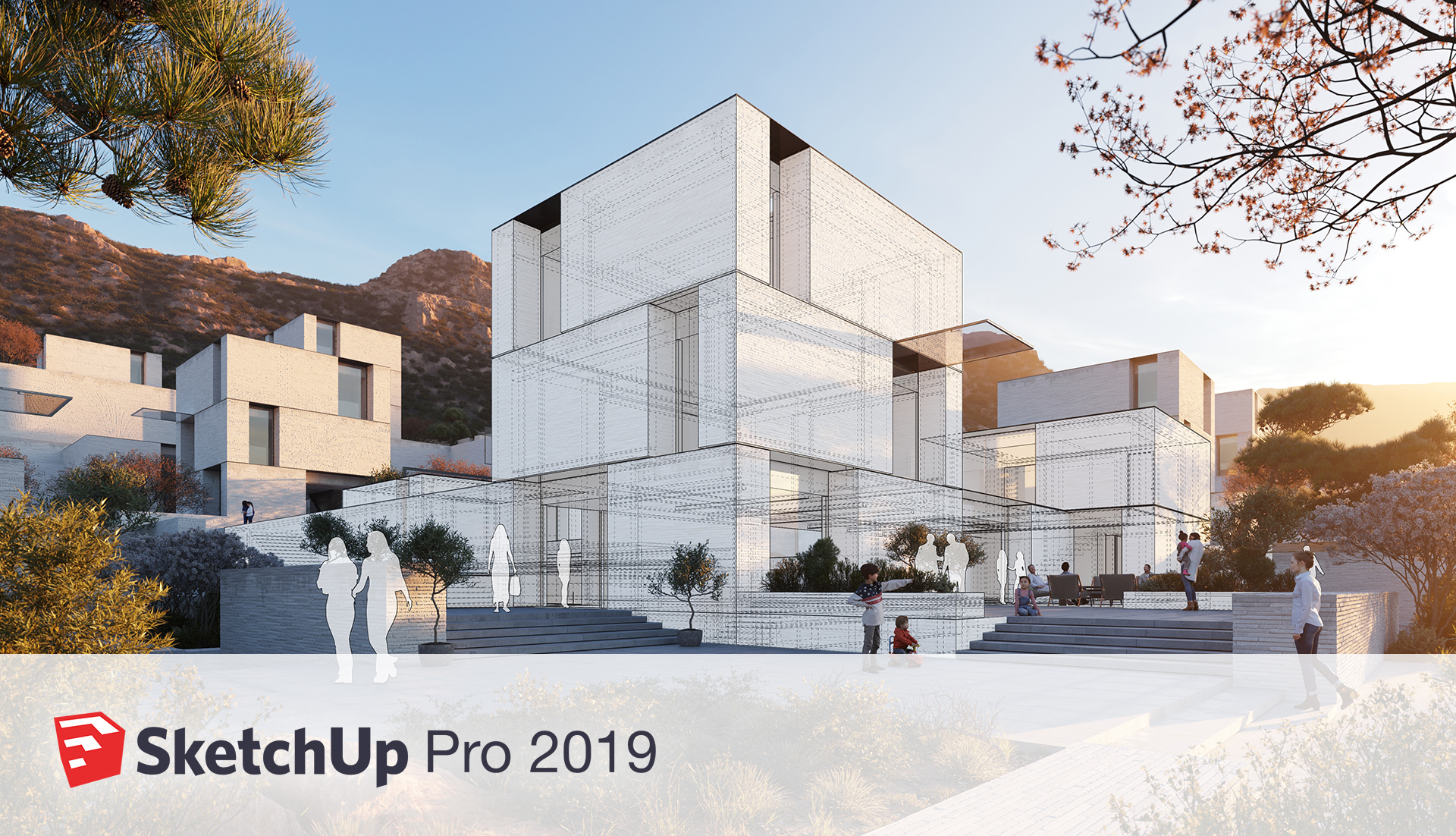 The SketchUp that you know and love… but so much more.
If you're already a SketchUp user, you know the reasons you love using SketchUp for 3D design and modeling. From the easy-to-use software and simple integration to the high-quality outputs that you need to impress your clients – it's the perfect software for your toolkit. But what if SketchUp could do even more for you?
Introducing SketchUp Pro 2019.
SketchUp evolves regularly to ensure that you're getting the premium product that you need and deserve, and this year is no exception! Your SketchUp software has been boosted to a whole new level so that you can continue to impress your clients and produce your best work possible.
Even if you're new to SketchUp, 2019 will offer you a whole new experience with all the fundamentals SketchUp has lived up to for years including…
Develop fully documented drawings including text, graphics and dimensions;

Experience software that's so easy and intuitive to use that you don't need extensive training to get started;

Integration with a library of extensions to use on your models including renders and interiors.

What's New in SketchUp Pro 2019?
Interface Upgrades
There have been some changes made to the overall interface and toolbar so it will be easier to manage your programs and licenses. Open new projects or recently used documents at the click of a button or see your licensing information with easy access.
And this is just the beginning.
Line Styles

Solid lines can't always tell the full story in a 2D or 3D model, and your clients may need something extra to really understand your design idea. So dashed lines have been introduced into SketchUp Pro 2019. Controlled from the layers panel, these dashes are properties of Layers and as simple to use as solid lines.

These dashed lines can be exported as EPS, PDF, and DWG/DXF, or even printed directly!
DWG Importer/Exporter

Integration is the key to your success – and now it's even easier for you to shift between different apps and programs. Continue to take advantage of DWG libraries with Import/Export of the 2018 DWG file format now supported.
SketchUp Tape Measure Tool

Everyone's favourite and essential Tape Measure Tool has had an upgrade! Spend less time opening the tool in 2019 – see the length of edges, areas of faces and coordinates by simply viewing an inference tip.

Get the information you need at the touch of a button!
LayOut File Locking

Ever make unintentional edits that take far too long to put back to the way it was? Well, that's about to become a problem of the past! SketchUp has made it harder to overwrite LayOut files. If a file is opened in two separate LayOut instances, it will temporarily lock the file as "read only" – simple!

Change the Way You do Business in 2019
These innovations have been made so that you can not only wow your clients and stakeholders but to make your life easier as well. Whether you're using 2D or 3D modeling for game design, architecture, fashion, landscaping, graphic or interior design or anything else you can imagine, SketchUp is the right choice for you.
With commercial and education licenses available, our accessible design software is suitable for all skill levels and budgets. If you're just starting out or have used a suite of other products, SketchUp is easy to learn with an intuitive interface that will give you elegant designs, every time.
What Are You Waiting For?
2019 has already kicked off, get with the times!  
Take control of your vision

Click HERE to join millions of other SketchUp users if you aren't already using SketchUp – or you just need to upgrade. There's a reason why SketchUp is the most popular design software!
Prefer to speak to someone? If you have any questions speak to our team on 07 3851 8380
https://www.sketchupaustralia.com.au/wp-content/uploads/2019-sketchup-new.jpg
1102
1920
Team BuildingPoint Australia
https://www.sketchupaustralia.com.au/wp-content/uploads/BPA_SketchUp-Australia_Logo-2.jpg
Team BuildingPoint Australia
2019-02-14 12:52:02
2020-11-06 08:18:15
The NEW SketchUp Pro 2019 has landed – and here is what's new.