Bridging the interior design gap with 2D plans to finished project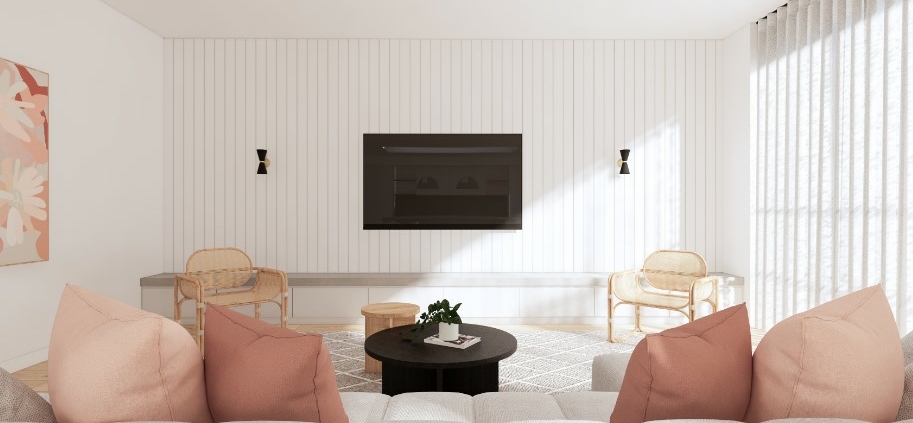 Australian-based interior designer Sarah Amos shows us how she "bridges the gap" for clients between their vision and the complete project.
Tell us about yourself and how you got into design.
I worked in property styling for four years doing staging and hands-on styling work. I was in and out of several properties daily, so I learned a lot about house styles and layouts. Before that, I studied interior design and started learning SketchUp in one of the course modules.

In 2020, I started working for myself. That happened organically due to COVID, and it evolved through Instagram. It only took about a thousand followers to really get something started.
What does Sarah Amos Interiors offer?
Styling and interior design for clients. People often have their own ideas, and I provide the tool for people to see their visions come to life. They constantly see things on social media that inspire them and, most of the time, have an idea of what they want. I work their vision into their unique floor plan and create visualizations of their design. I help people gain clarity and confidence to build and renovate with a plan. I'm a facilitator and passionate about making people's homes precisely what they want them to be.
How do you pick a style?
I'm not scared of colour. I love incorporating colour, timber, a variety of accents, whether white or black, tapware, and breaking things up with contrast. Mixing colours is my specialty, whether it's simply adding a pair of contrasting cushions or adding a touch of colored joinery.
Each project is unique, but I notice trends. Many people are drawn to lighter timbers — it's rare for clients to want dark and moody interiors; there is a strong trend for light, bright and neutral interiors.
My personal favorites are walnut tones and anything with a mid-century flair. I love anything with a bit of history.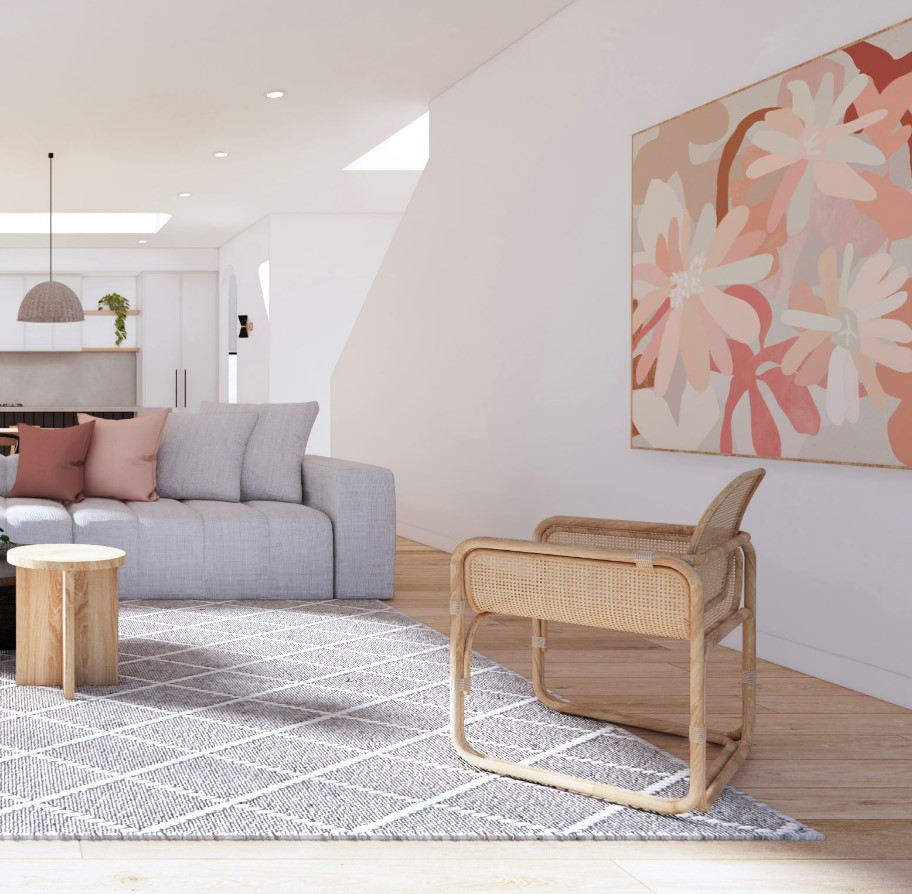 What led you to start working with SketchUp?
While studying Interior Design, there was a six-month unit on digital modeling. We touched on AutoCAD, but I found SketchUp the easiest to use. The ability to work in 3D with textures and colours and to see a space from all angles is really cool.
"I started with SketchUp and designed in 3D from the start. Most people are highly visual, and 3D models can make interior design accessible and time friendly for people."

Sarah Amos
My husband and I built a townhouse, and I modeled it from scratch to see how it would look. I used SketchUp to help with furniture selections and plan various DIY projects.
After graduating, I started working in property styling, where my manager had a few interior design clients. I did 3D modeling for those clients to communicate furniture selections, curtains, cabinet designs, etc. Clients were always amazed when they saw the potential of their homes. The ability to see what the space will look like and how it will function is priceless. I haven't dabbled in any other software since using SketchUp.
Even after seven and a half years of using SketchUp, I'm still learning! I still find tips and tricks that amaze me. There are endless possibilities – it's just great software. And now, SketchUp is available on iPad, which makes me excited to try the new capabilities.
How does SketchUp fit into your workflow?
Working in 3D allows you to work with the whole space and achieve a perfect sense of balance as you develop the model. You can build an island bench, and within a couple of hours, you can decide what you can and can't do within the space. I'll then take screenshots and share images of the in-progress design with my client. It's easier to make design decisions throughout the process rather than make big changes at the end.
I'm always working in phases. I usually start with a basic block model and then develop each stage. For example, in the kitchen, we might start with the main wall cabinetry, then work through the island, into the butler's pantry, and lastly, we would create the galley kitchen if there is one. I find that people want to see the kitchens first, and then other rooms come together. After the kitchen, I'll probably model the ensuite or laundry. Sometimes clients want to see the whole open living area — kitchen with dining and living, etc.
I'll then use Enscape to finalise the model with lifelike renders before moving on to LayOut, where I can create working drawings with a full set of measurements and design notations. Once I have high-quality images from SketchUp, I present the concept to my clients.
I provide my clients with a large digital package containing progress images of the model. I set up scenes within the model and save each scene as a viewpoint. I usually set up four elevations, a floor plan, and 10 to 12 scenes showing the design from different angles. Sometimes I include videos for my clients using the animation feature in SketchUp.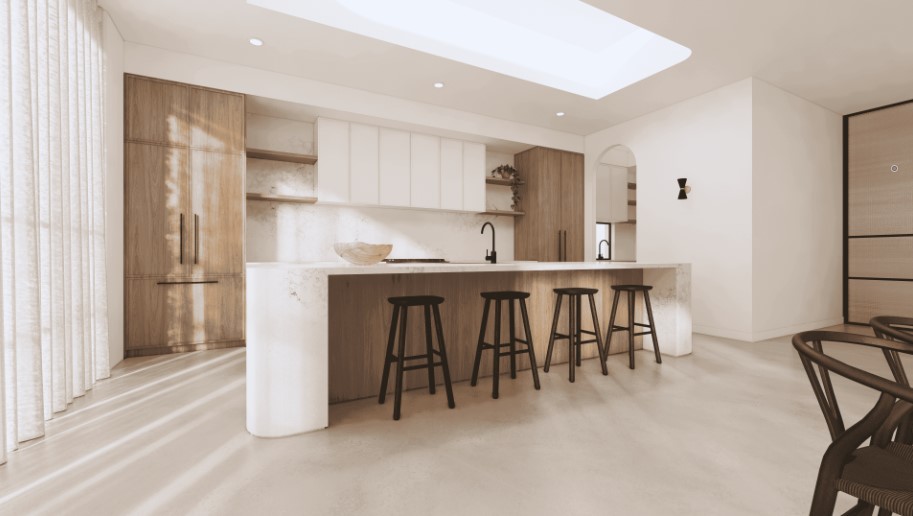 Excerpts from the article by Mahenoor Khadeghat. Read the Full Article
https://www.sketchupaustralia.com.au/wp-content/uploads/Bridging-the-ID-gap-1.jpg
482
913
Amos Soo
https://www.sketchupaustralia.com.au/wp-content/uploads/BPA_SketchUp-Australia_Logo-2.jpg
Amos Soo
2023-02-15 10:52:00
2023-02-22 11:19:40
Bridging the interior design gap with 2D plans to finished project