Massive update for SketchUp 2020: It's time to throw away your other 2D drawing software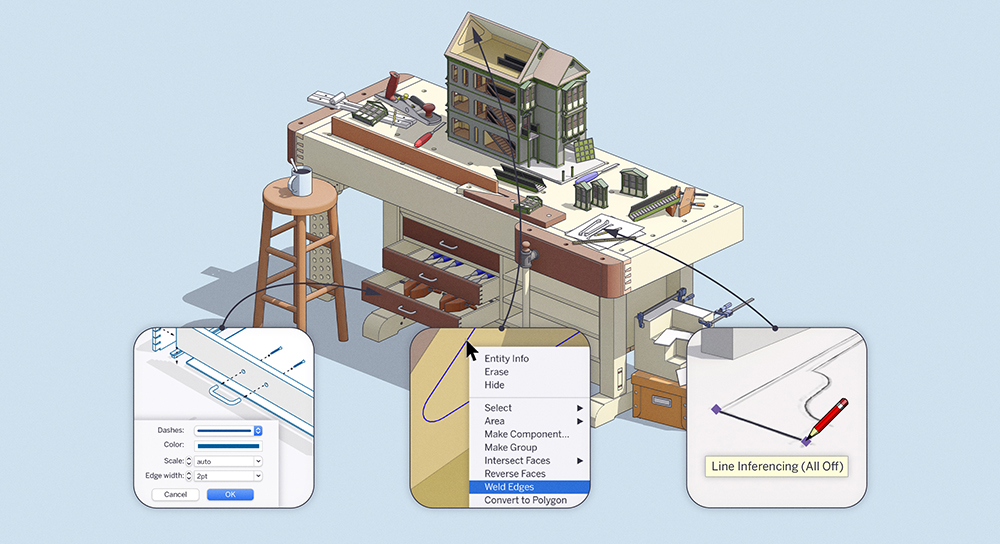 With SketchUp moving to subscription only, we are living up to the promise of delivering continuous updates (rather than just a couple of changes once per year. Boo!). And this update is huge – especially for Layout (2D drawings)!!
Already have an active subscription or classic licence? Click HERE to upgrade to SketchUp 2020.2.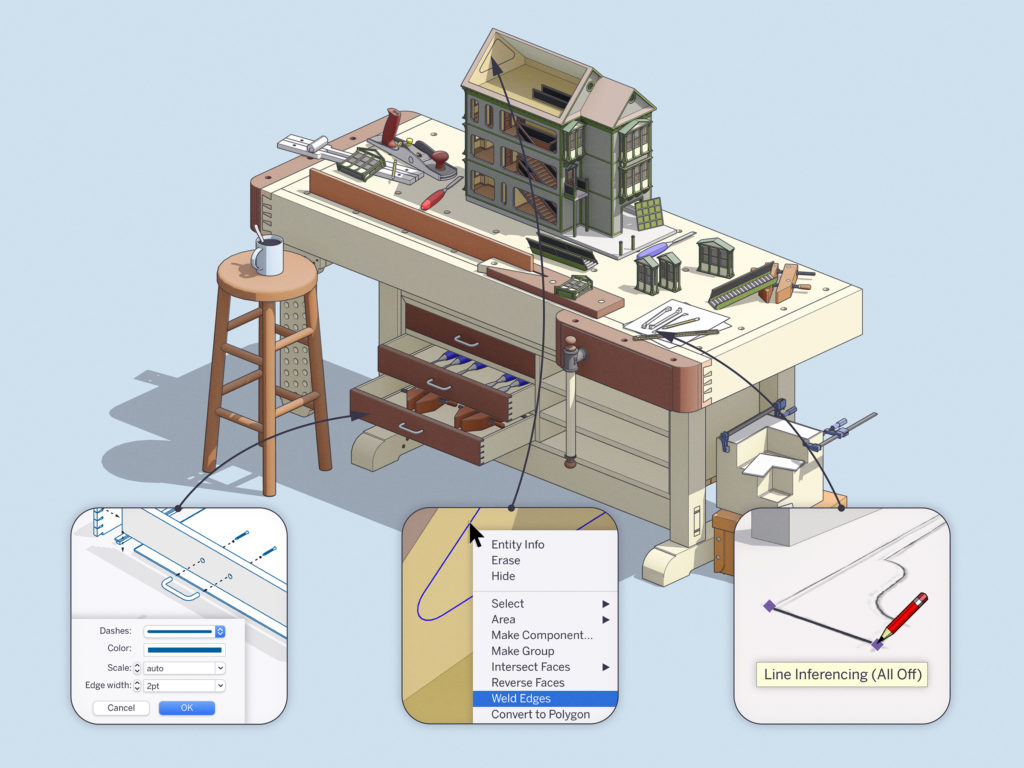 After introducing SketchUp 2020 in January and sharpening it in April, we're pleased to announce an August update as well. These enhancements focus in on a few long-standing user requests. Let's take a closer look.
Before we jump into the Layout 2D changes, we'll start with some cool new SketchUp features:
SketchUp
Linear inference toggles for the Line tool in SketchUp
SketchUp inferencing comes in all shapes and sizes. One of the most distinct is the linear inferencing that allows you to snap or lock to the red, green, and blue axes. Linear inferencing makes SketchUp work, but it can also get in the way. For instance, if you are working with very small spaces or tracing images, we've heard from you that it would be helpful for inferencing to get out of the way.
To address this, the Line tool now features a modifier key [(ALT) on Win and (CMD) on Mac] to toggle linear inferencing on and off, so you can draw edges without being snapped to an inference. You can turn off all inferences, or leave only parallel and perpendicular inferencing on. Of course, you can still jump to a specific inference — red, green, blue, or magenta — using the arrow keys.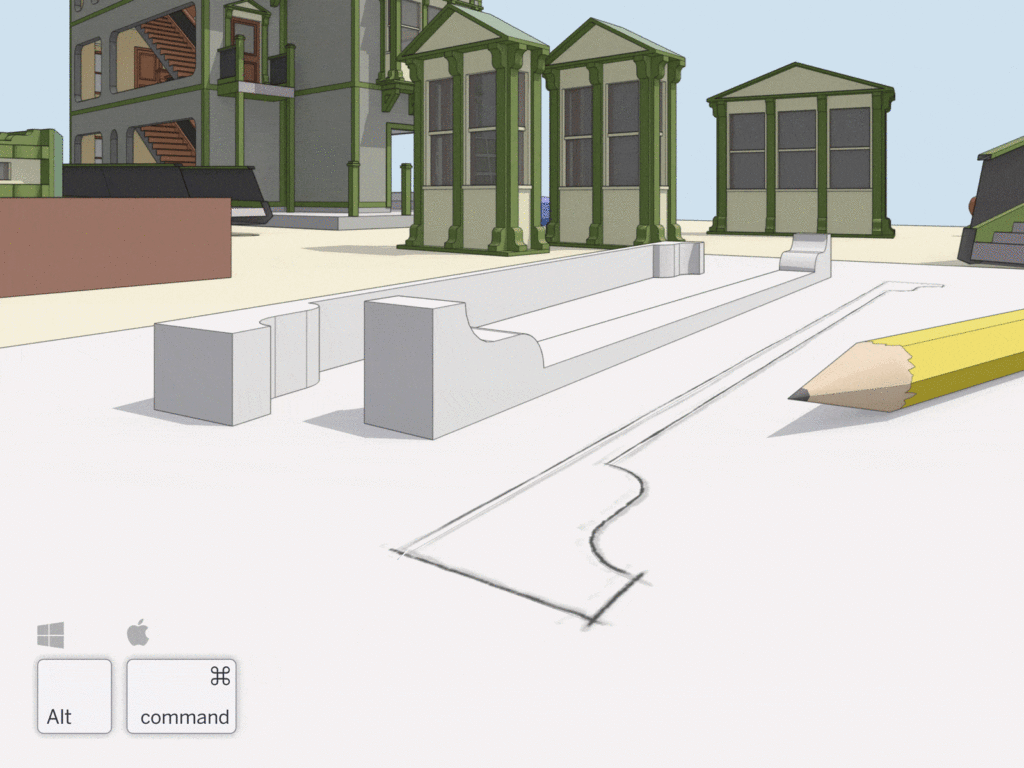 Weld Edges in SketchUp
We added 'Weld Edges' to SketchUp's native tools. This means you can join edges and arcs into a single polyline without installing an extension. If you haven't used a weld extension, we recommend starting to weld edges for any face where you'd like a smooth push/pull extrusion. Select the edges you want to join, right-click and select Weld Edges.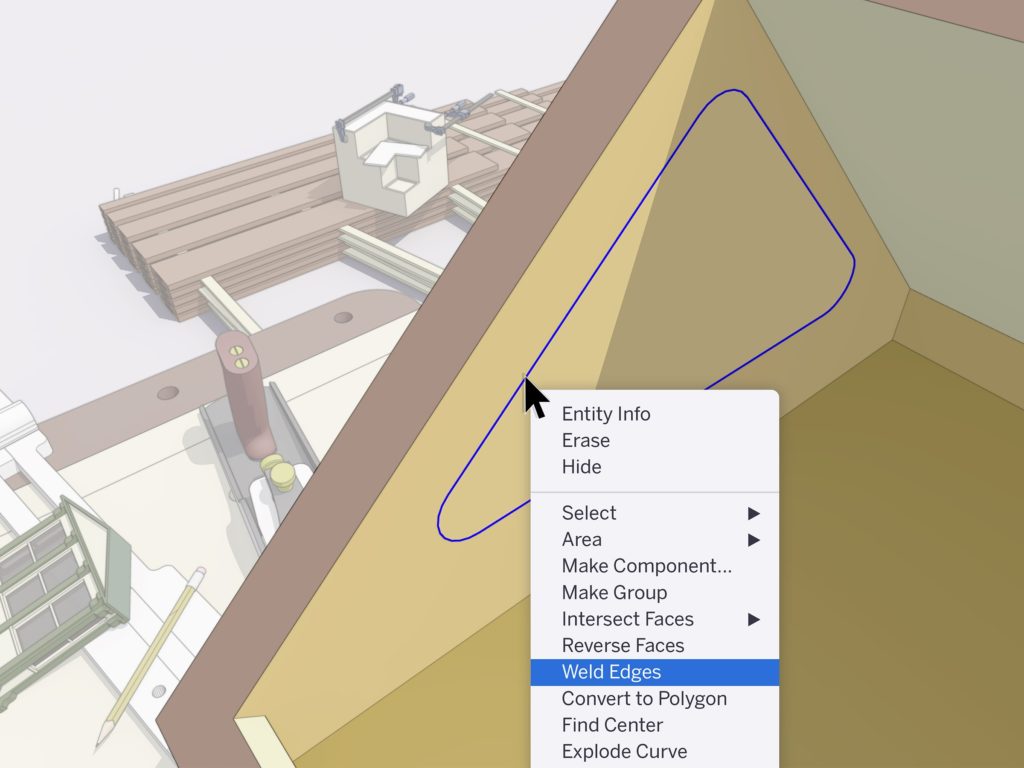 So that's the SketchUp changes. However, this update is all about Layout – and we are dancing on the roof. Why? Layout has allowed you to create amazing looking drawings for a while now – but it was missing full line control/management to make it a serious contender for the ultimate 2D drafting tool.. NOW IT IS!
Layout
Control line width, colour, and pattern by tag in LayOut
Layout has been missing one big feature for professional drafting: full line control. But that has now changed. Over the years, we've also learned a lot about how LayOut users stacked viewports to create incredible 2D drawings. The biggest lesson: it would be great if you didn't have to stack performance-impacting viewports to get drawings to look the way you want.
We're happy to share that you can now control the line style of SketchUp tags in LayOut. Before this update, rendering a plan view with different line weights meant hiding a bunch of geometry, creating different scenes, and stacking viewports. Now, you can adjust the edge width, colour, dash pattern, and dash scale in one viewport by assigning and styling tags.
This update will completely transform the way you create 2D drawings with Layout.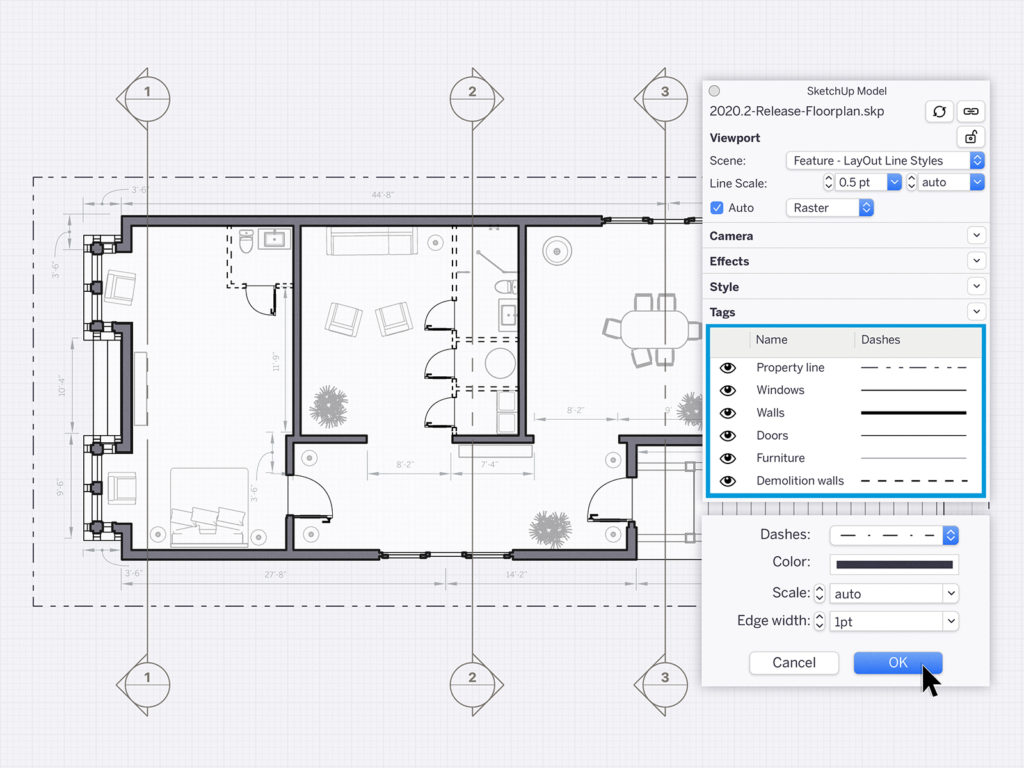 Whether you need control of line styles for architectural drawings, production drawings, and details, or general illustration, we'd love to hear your impressions… or better yet, see your work. Share some examples of the drawings you create (or would like to make) in SketchUp and LayOut using the hashtag #LearnLayOut
Smoother operations in larger LayOut documents
Good LayOut documents are an arrangement of viewports, images, vector graphics, and labels. As pages get complex and documents get longer, operating on selections gets slower. To help speed up larger files, we're excited to share changes to how the move, copy, and scale operations work. Now, LayOut previews these transformations instead of drawing them in real-time as you work with a selection. When you complete a move, copy, or scale operation, LayOut then redraws your action. This is a subtle change, but it brings a new feel and a lot more efficiency to LayOut.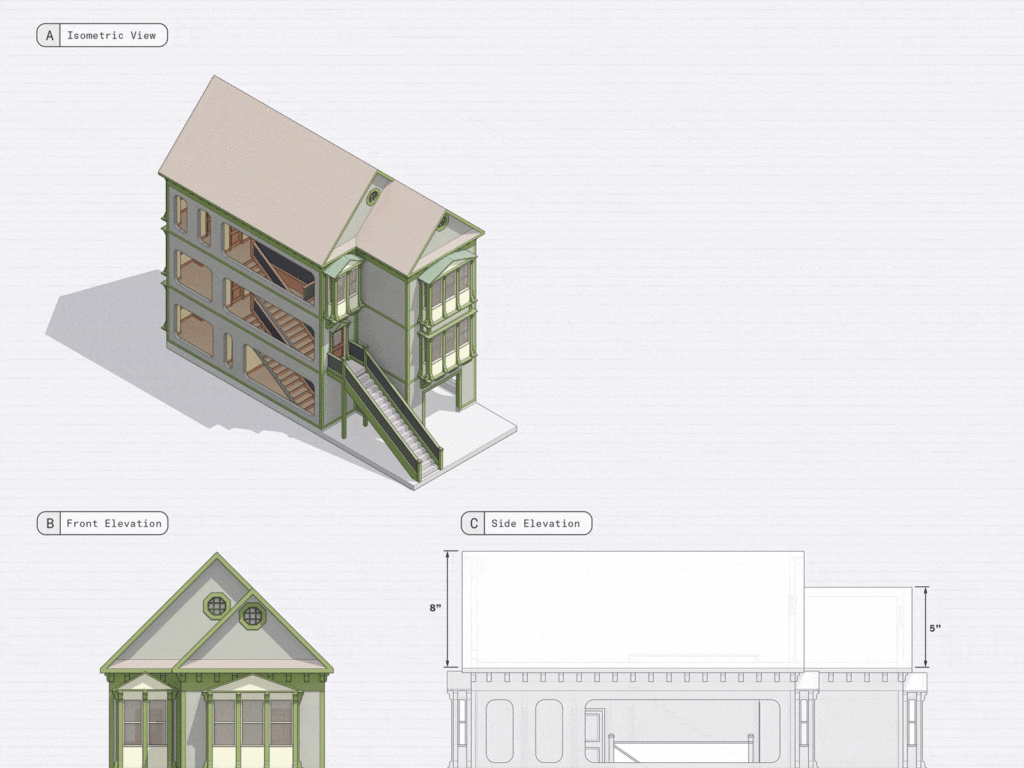 If you have been sitting on the fence and using other software to create your 2D drawings – now is the time to dive into Layout. You won't look back, and your 2D drawings will never look so good!
You need Pro or Studio to access Layout. Already have a Pro or Studio licence? Update now and explore these updates today!
Happy SketchUpping!
Already have an active subscription or classic licence?

Click HERE to upgrade.
Don't have an active subscription or classic licence?

Click HERE to join millions of other SketchUp users if you aren't already using SketchUp – or you just need to upgrade. There's a reason why SketchUp is the most popular design software!
Prefer to speak to someone?
If you have any questions speak to our team on 07 3851 8380
https://www.sketchupaustralia.com.au/wp-content/uploads/SU2020-2020.2-Hero-BlogTile.jpg
544
1000
Team BuildingPoint Australia
https://www.sketchupaustralia.com.au/wp-content/uploads/BPA_SketchUp-Australia_Logo.png
Team BuildingPoint Australia
2020-08-12 09:00:00
2020-08-12 13:06:04
Massive update for SketchUp 2020: It's time to throw away your other 2D drawing software